According to latest reports in connection with drug bust in Punjab, Olympic boxer Vijender Singh will be questioned by the Punjab police in a couple of days or so.
The information was given to media by police official. The Punjab police has recently recovered Rs 130 crore drug hual from a flat.
On the other hand, Vijender's boxing partner Ram Singh was officially expelled from the National Institute of Sports [NIS Patiala] camp on Sunday.
Talking to media, Fatehgarh Sahib SSP Hardyal Singh Mann said, "We will summon Vijender for questioning."
It is said that the boxer will be summoned within the next 72 hours.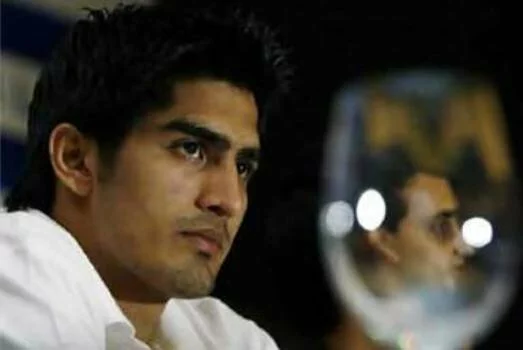 In connection to this, Police arrested Sunil Katyal on Sunday, said to be the main quality drug collector from the group operating the racket in Punjab.
Earlier, boxer Ram Singh said in media that he and boxer Vijender consumed heroin together.
Ram Singh said, "Whenever and wherever the police call me, I will come. I'm ready to face any investigation."
The NIS Patiala also maintained that any decision on the boxer will be taken only after police investigation is over.
The executive director LS Ranawat said, "Vijender is yet to give his statement and he maintains he never took drugs."