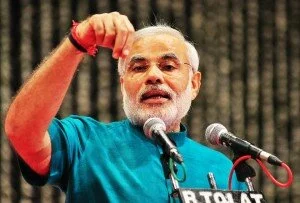 The two-page advertisement that was pulled out with newspapers on Republic Day is the main headache for Congress govt. in this along with Modi's photographs, several achievements of Modi's also enlisted and he called in a pull out as 'a master organiser and astute election strategist'.
As per source all the matter has taken very seriously by AICC that has sought clarification from Gujarat Congress leaders. As per advertisement, Modi has been trying very hard to convert Gujarat into a vibrant state as organized Vibrant Gujarat investor's summit.
He has established a separate department for biotechnology, and has also been able to raise the height of Narmada dam from 111.64 metre to 121.92 metre.
Several festivals like Krishi Mohatsav, Navratri Mohatsav, kite festival, Rannostav, all initiatives of the Modi's government.
Instead to make this matter ruined , the Gujarat Congress leaders are in aggressive form and criticizing Congress by asking whether Modi was alone who had helped Gujarat progress.
And running in high temper, it was decided that they would go with more pull out with a more aggressive advertising to down the impact of this one.
Beside it, BJP also took in verbal war and criticized the pull out incident made by Congress in praise for Chief Minister Narendra Modi to get more votes, but as per BJP, the people knew the party's "true character" and the ad will not "ward off people's anger against the Congress.
Meanwhile by drafting more ads with full defensive content, the Congress tried to save itself from the issue.
But another pull out with newspaper on the same Republic Day in Ahmedabad only in few selected areas like Paldi that known to be a BJP stronghold, forces people to think about its strategic plan as an isolated pull out for promoting the party in elections.