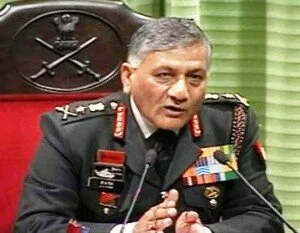 On 3 Feb, the Supreme Court will hear the petition that was filed by General VK Singh as issue of his age that created by govt. to treat his date of birth as May 10,1950 instead of May 10, 1951.
But today, 5 days before the hearing , the ministry of Defence has written a letter to Adjutant's General's branch of Army asking for make a change in the Army Chief's date of birth as 1950.
Chief's age row is a big issue that forced to pointed out the security and disciplinary of Military forces. This issue is hit out by lack of majority from both sides, one is government and another is army civilian.
As per VK Singh's petition, his DOB is 1951 as per his matriculation certificate and other documents and he claimed that he would retire on 31 May 2013.
Although his date of retirement depends on Supreme Court's decision that will be taken on 3 Feb after hearing, but one thing is clear that whatever decision will be taken by Court, the Chief has no option except to follow it.
If decision will not be in favour of Singh, then he will retire on May 31, 2012 otherwise the retirement will fall on March 2013 as per his 1951 year of birth.