Mark a new chapter in the UK-India economic relationship, British Prime Minister David Cameron announce to introduce same-day visa service for Indian businessmen, seeking to lure more who want to come and invest there.
British PM visited India today in a three-day tour has expressed the eagerness to seek "the great partnerships of the 21st Century" with India, interacting Hindustan Unilever.
Easing the UK's visa process, Cameron said there would be no limit on the number of students who can come and study in universities in his country, reports said.
Cameron's visit really a woo for Indian students as there would be no cap on time period for Indian students as they can stay and work as much time as they want in graduate-level jobs after they qualified.
Cameron, accompany of the largest-ever trade delegation, has arrived at Mumbai today morning, and this is of his second visit to the country in less than three years.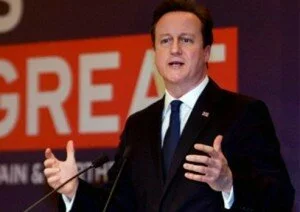 Much excited about his ambitious project to develop a "business corridor" between Mumbai and Bangalore, Cameron announced that £1m fund a feasibility study into using British expertise, sources said.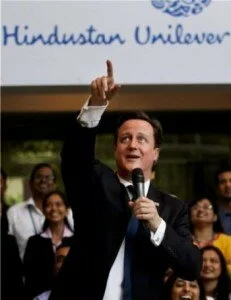 Focusing on business, he tried to lure the Indian domestic market as lost of opportunities for Indian companies to invest in Britain, but he asked to ease the trade law in India seeking better opportunities for both nations, major in banking and retails sectors for fast growing economy.
Meanwhile, tomorrow Cameron will fly to Delhi for take a look with Prime Minister Manmohan Singh on several issues regarding economy as well as politics. Indications are that Indian government is likely to seek more information on alleged kickbacks in the Rs 3,600 crore VVIP chopper deal.