About more than 10 days of Afzal Guru's execution, the body of 2001 Parliament attack convict  has become the major issue for Indian government as whether to hand over to his family or not.
Reacting over amid clamour, Prime Minister Manmohan Singh suggested putting the matter under Parliament for final word on the handling of Afzal Guru's body whether should be taken to Jammu and Kashmir as demanded by his family.
"Let the parliament discuss whether the body should be brought back or not," Mr. Singh said, sources said.
Demanding the handling of Guru's body, his wife Tabassum have written a letter to Deputy Commissioner of Baramulla in North to take up the matter with the Union Home Ministry.
Referencing PM statement, Home Ministry official confirmed the decision over Afzal Guru's body handling would be taken soon.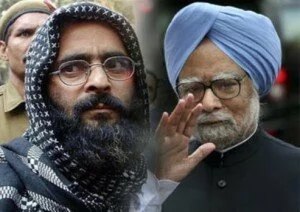 However, Guru's family who rejected the offer to visit his grave at Tihar Jail said that they wanted nothing but his body.
Afzal Guru was hanged inside Delhi's Tihar Jail on Feb 9. He was buried inside the jail complex alongside Kashmiri separatist leader Maqbool Bhat, who was also interred in the jail complex after his hanging in 1984.