Finance Minister Mr. P Chidambaram has launched the Rajiv Gandhi Equity Savings Scheme to integrate the KYC (know your customer) norms in wake to attract new investors to the stock market.
"We have tried to be creative to make it more attractive. We have allowed mutual funds to participate in RGESS, and we have broadened the definition of first-time investor to include demat account-holders who have not transacted previously," FM spoke at the launch of the RGESS Schemes.
No doubt, initially the scheme was too complex for the small investor as the tax incentive on investment up to Rs.50,000 was not adequate.
To make more participation from first-time investors, Chidambaram said that the government will revisit RGESS with more retail investor-friendly provisions to channelise savings into financial instruments.
The necessary changes suggested by SEBI would be announced in the forthcoming Budget in RGESS that would make the instrument tax efficient, reports said.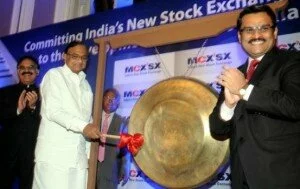 It added that under RGESS logo, 5 mutual fund houses' schemes-SBI, UTI, DSP Blackrock, IDBI and LIC Nomura have launched out of a total of 11 mutual schemes.
The much initiative equity instrument from the Government to lure first-time investors will offer for a lock period of three years, eligible for those investors who have an income below Rs 10 lakh.
In first year, tax exemption will be offer at 50% investment and then followed by a flexible two year period.