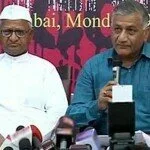 The social activist Anna Hazare has today announced his new front against corruption in the country, and the name of his front will be disclosed before Diwali.
An interestingly, the co-founder of the new front is former Indian Army chief VK Singh. Former Army chief VK Singh and Anna Hazare today demanded that Parliament be dissolved immediately because the government, beset by graft and indebted to big business, has stopped caring about the people.
Talking to media, Anna Hazare said, "We need to awaken the people…so the General and I will travel all over the country starting January 30."
Further, they added that they will not campaign in Himachal Pradesh and Gujarat, where general election is scheduled in November and December.
VK Singh said, "The opposition and the government have abandoned the people's interest." Anna hazare said, "We will not form a political party."
Till last year and early this year, Anna Hazare was the face of India Against Corruption but now he left it due to Arvind Kejriwal, after he announced to make his own political party.
Anna said, "I will support his candidates if they are clean." Wen asked about his protege. "If Arvind contests, I will support him," Anna Hazare added.