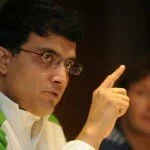 The former Indian captain Sourav Ganguly has today announced his retirement from all levels of cricket, however, he had announced his retirement from international cricket about four years ago, and today he Ganguly quits from Indian Premier Leagus [IPL] as well.
Now, the former captain will also quit playing first-class cricket for Bengal. Sourav Ganguly has been playing for Pune Warriors India in IPL, but he started his IPL journey with Kolkata Knight Riders.
Talking to media, Ganguly said, "I will be almost 41 by the time IPL-6 ends. Twenty20 is a very demanding format. It would have been very tough for the body."
Sourav Ganguly, left-handed batsman, has said that he had made it clear to Pune Warrior officials about his retirement in the last league.
He said, "To captain in IPL, there is a lot of responsibility. You are answerable to many questions. It's better to captain the country. At least, nobody would phone you and ask what went wrong."
Ganguly said, "I had a wonderful time playing in the IPL for five seasons. It gave me a chance to keep playing top-class cricket even after quitting international cricket. But I can't go on forever, and I have requested the franchise owners not to consider me for IPL-6."
When asked by media that if he will now plan coaching. He said, "There is a long time left to become a coach."
He added, "Even if anyone approaches me to turn up as a player I won't agree this time. There is no question of playing anywhere if I'm not playing in Pune. If I don't play IPL, I won't play for Bengal as well."
Ganguly started playing for Bengal on March 23, 1990 at Eden Gardens and he last played for the state as a captain against Baroda in their Ranji match from December 21-24, 2011.
Sourav Ganguly has played 113 tests and scored 7,212 runs and played 311 ODIs scored 11,363 runs.