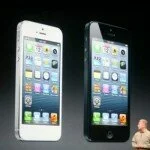 Indian Apple lovers seems to ending their wait for the world largest selling device Apple iPhone 5 as Apple set to launch its device in Indian market on November 2, already billing in Indian rupee on the App Store has been started.
Apple is ready to offer iPhone 5 on Nov 2 with support of distributing partners Redington India and Ingram Micro across India's modern online stores and retail outlets beginning Friday November 2.
Best thing is that there is no dollar billing for Indian consumers and sellers, the easiest way of hitting out purchase transactions entry without headache of US dollar payment mode.
As Apple is enable to open its store in India due to the high cost of distribution, it apply its retailing distribution and the pre-order booking is started within a day targeting Diwali festival season as the stock is start arriving at the master distributors.
If we talking about pricing strategy of Apple iPhone 5 in Indian market, the basic variant of 16GB will be priced with taxes at lower rate of Rs 45,000, while the 32GB and 64GB will be priced between Rs 45,000-60,000 respectively.
The expensive iPhone 5 is a 4G LTE smartphone comes with a larger 4" retina displa, offering best qualitative image sensor delivering 2.1 times faster photography with a latest an image signal processor for better low-light pictures.
Reports are also that all Indian carriers are concerned to set nano SIM cards in iPhone 5 to officially launch in India.