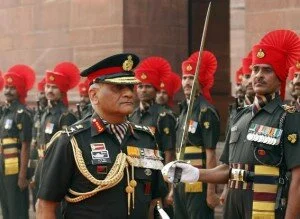 Few days back the respected Army Chief VK Singh gave a shocking statement on bribe in army deals. And now, General VK Singh has written a letter to Prime Minister.
It is said in reports that VK Singh said in his latter that India's security might be at risk owing to the fact that tanks are getting short of ammunition, air defence is going outdated and the infantry is working without required weapons.
Reports have said that Army Chief wrote this letter to PM on 12 March. General Singh asked PM Monmohan Singh to pass required directions to improve the preparedness of the Army.
Army Chief wrote letter to Pm after he failed to get a response from the Defence Ministry.
Meanwhile, some experts and political observers have criticized the central government for not having made any big deal in defence purchases
General VK Singh wrote in his letter, "The state of the major (fighting) arms i.e. Mechanised Forces, Artillery, Air Defence, Infantry and Special Forces, as well as the Engineers and Signals, is indeed alarming."
Army Chief, further pin-pointed in his latter that there is lack of required ammunition for the complete tank forces in the Indian Army. In addition, country's air defence is "97% obsolete and it doesn't give the deemed confidence to protect…from the air."
Further, the latter said, "The infantry is crippled with deficiencies of crew served weapon" and lacks "night fighting" capabilities. Elite Special Forces, on the other hand, are "woefully short" of essential weapons."