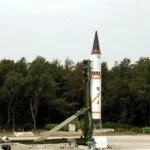 Going ahead with its successful test fires, Indian authorities now test its nuclear-capable Agni-III ballistic missile which fired with range of 3000 km from a base in Odisha coast.
The Agni III, surface-to-air missile is able to transform a 1.5tonne weighting warheads protected by a carbon all composite heat shield, and has total weighs 48 tonnes.
The missile tested under a launch complex of the Inner Wheeler Island, is capable of a Rail Mobile System, hit launch from anywhere for monitoring data. It has a two-stage solid propellant system – electro-optic systems and sophisticated radars located along the coast, comfortable with a very high velocity atmosphere, defence told reporters.
"It was the fifth test in the Agni-III series carried out to establish the 'repeatability' of the state-of-the-art missile's performance," a DRDO scientist told reporters.