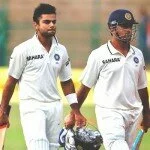 The Indian test team is struggling in the first innings against New Zealand in the 2nd test match played at M Chinnaswamy Stadium, Bangalore.
Indian lost its last night batsman Virat Kohli and MS Dhoni ann live updates state that India lost eight wickets.
Live Scoreboard: India 353 all out ( R Ashwin 32*, Umesh Yadav 4*) New Zealand: Southee 7-64.
Middle order batsman Virat Kohli made super 103 runs from 194 balls hitting 14 fours and a huge six. Cpatian MS Dhoni also completed his fifty, he made 62 runs from 94 balls hitting 8 fours and 2 sixes.
From New Zealand, fast bowler Southee is the most successful, he has 7 wickets under his pocket so far.
India trail by 41 runs with 1 wicket remaining in the 1st innings.
However, India still have chances to win the match, but bowler have to perfoem well in the second innings and get New Zealand team out under 200 runs.
Earlier, Ojha took 5 wickets and Zaheer Khan took 2 wickets, and , Ashwin and Yadav took one wicket each.
India lost Gautam Gambhir early, Virender Sehwag played some shots but was out on 43 runs.
Sachin Tendulkar not at his best, he made 17 runs.