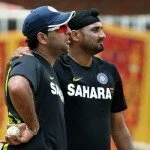 The Indian cricket team is all set to face New Zealand cricket team in the 2nd Twenty20 cricket match played at MA Chidambaram Stadium, Chepauk, Chennai.
The match is very important one as Yuvraj Singh is making a comeback into Team India after a long time. Earlier, Yuvraj was expected to make a comeback in the 1st Twenty20 match but that was washed out due to rain at Visakhapatnam last Saturday.
The middle-order batsman from team India, Yuvraj returned after his successful treatment of cancer and his fans are now waiting their star to perform once again.
Talking to media, Yuvraj said, "We need to get some games in before the World Twenty20."
India squad
MS Dhoni*†, G Gambhir, R Ashwin, L Balaji, PP Chawla, AB Dinda, Harbhajan Singh, Z Khan, V Kohli, IK Pathan, SK Raina, V Sehwag, RG Sharma, MK Tiwary, Yuvraj Singh
New Zealand squad
LRPL Taylor*, DAJ Bracewell, JEC Franklin, MJ Guptill, RM Hira, BB McCullum†, KD Mills, AF Milne, RJ Nicol, JDP Oram, TG Southee, DL Vettori, BJ Watling, KS Williamson
Umpires VA Kulkarni and S Ravi
TV umpire S Asnani
Match referee BC Broad
Reserve umpire C Shamsuddin
Hours of play: 7 p.m. to 8.20 p.m. (first session) and 8.40 p.m. onwards (second session).