One of the most highlighted issues 'Modi for PM' was cooled down for sometimes due to Afzal Guru's execution and VVIP Chopper Deal Scam, but now once again reactive with a force.
BJP leader Arun Jaitley and PCI Chairman Markandeya Katju on Sunday bowed into the worse war of words over Katju's article about the 2002 Gujarat riots and Gujarat Chief Minister Narendra Modi.
Katju's article was against Modi's projection as India's transformer or Prime Minister and Opposition leader of Rajya Sabha, Jaitley criticized him for that.
Jaitley called him "more Congress than the Congress", and said that latter's subjects were motivated by his political preferences. He demanded his resignation, reports said.
In a counter attack at Jaitlry, Katju asked him to quit politics and take 'sanyas', accusing him for "twisting facts" and "talking nonsense."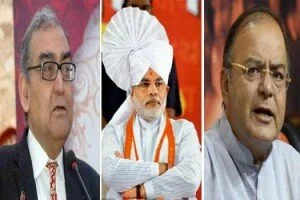 Katju hit back with a force at Jaitley, referencing 2002 Gujarat riot and said, "There is still a mystery of what happened in Godhra."
In support of Katju, Congress leader Digvijay Singh also came against Jaitley, calling his criticism for Katju was "unncessary and outlandish" that surprised him.