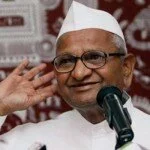 Clarifying his stand on Arvind Kejriwal's newly launched Aam Aadmi Party, social activist Anna Hazare on Tuesday said he would not vote to his former colleague's party in the 2014 elections.
However, Mr. Hazare denied explaining any reason for his stand as he said that situation would be more troubled if he explains now.
"It is because of the times. I will tell the reason for this change when the time comes…If I say the reason, it will create more trouble," Hazare told reporters.
As time changed Anna's view on his former colleague Kejriwal has changed. Anna said that Kejriwal is dreaming that Anna will come back with him because he is on right path.
"He is dreaming. What can I say on that?" Anna said, adding that, "I have never told anybody to vote for this person or that party. If I had belief in politics, I would have stood for elections much earlier."
Earlier, it was Anna who said he would support Kejriwal from his party if he contested against Telecom Minister Kapil Sibal from Chandni Chowk. But later Anna said as per source, turned his statement on AAP that AAP convener was "greedy" (for power) and he would not even vote for him, leave alone campaign for him.
Meanwhile, Anna is all set to move towards another movement before 2014 elections if a strong Lokpal Bill is not passed in Parliament. From next 30 January, Anna will start his nation-wide tour from Pune to awaken people regarding Constitution.