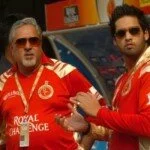 At that time when KGA airline is struggling with ending phase to be grounded at any time, the owner o the airline Vijay Mallya is said to be busy with his son Siddhart with other preoccupations abroad.
While cash stripped KFA's flying licence have been suspended by the DGCA, also ticket booking have blocked till it resumes operations, there is no threatening expression have seen in Mallya .
Mallya, the king of good times , is reported to be abroad, even there is no sought to meet the Union aviation minister, Ajit Singh, in wake to find any solution in between negotiation for his airline and its employees.
As per source familiar with Mallya cited that three week ago Mallya had left the country on his private jet, VT-VJM. Last time he was seen at Yeongam in South Korea along with his Senior team enjoying a popular motor-racing competition.
Hoping that Kingfisher airline would resume very soon as the company announced that it had received an order of the DGCA suspending its scheduled operator's permit which is never affect its actual position.
KFA Spokesman said that once the issues with the employees were resolved, it would first present its resumption plan to DGCA for review, before resuming operations, adding it's "our endeavour to re-start operations at the earliest and we assure you we are working towards achieving this."