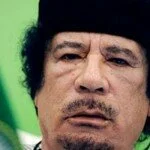 As per latest reports, youngest son of the former Slain Libyan leader Muammar Gaddafi, Khamis has killed due to having wounded in gunfiring with government forces in the town of Bani Walid.
During clashes of town's pro-Gaddafi garrison with forces on Saturday in the town of Bani Walid, about 170 km southeast of the Libyan capital Tripoli, Khamis had injuries and died,  the Libyan national congress' spokesperson Omar Hamidan confirmed.
Hamidan confirmed 28-year-old Khamis's death in front of nation via television, but  gave no further details.
With coincide, after one year on the same day since Gaddafi's capture and death on his hometown Sirte by rebels Oct 20, 2011, now on the same date his son Khamis died.
As per media reports, Gaddafi's former stronghold, Bani Walid hit out several clashes by a militant operations into small groups which demanded the handover of people which accused of kidnapping and torturing Omran Shaban. Shaban was the man who reportedly captured Gaddafi.
And after heavy fighting on a fourth day of clashes, Khamis's body was found in town resulting the death of 13 and 121 wounded, as per force report..
Meanwhile, overall Gaddafi's 42 years long regime has ended by opposition forces with a long war in support of NATO. And the biggest celebration on Khamis's alleged killing has marked in Misrata, Libya's third city, assaulted with rapes and murders.