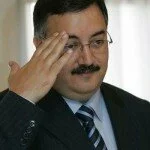 On Friday, in the Lebanon, allies of heart of Syria, Damascus, a deadly bomb attack in the mainly Christian district of Ashrafiya has killed eight people including country's intelligence chief Wissam al-Hassan and wounded dozens.
Over raising toll in series of attacks in Syria, anti-Syrian unrest has hit out in several parts of Lebanon, burning tyres and blocking roads by opposition turning the ceremony into a political rally against Syrian President Bashar al-Assad and Lebanese Prime Minister Najib Mikati, accusing to be responsible for attacks.
As per media information, a national mourning was also held yesterday at location of attack where a huge crowd presented for the victims.
Meanwhile, today, the funeral of Lebanese security chief Wissam al-Hassan is to be held next to former Prime Minister Rafik Hariri's tomb in Martyrs' Square in central Beirut.
And to make presence, Lebanese opposition leader Saad Hariri called all citizens to personally invite at a funeral and give honour to those who was killed by a car bomb.
Rafik Hariri was Mr Hariri's father who was killed by a car bomb in Beirut in 2005. and following that, Mr Hassan was investigatinh the attack which likely to led a link with  Damascus.
Blaming Damascus for bomb attack, Prime Minister Najib Mikati announced that Friday's attack has been linked with connected with earlier arrest of a former minister in charge of planning a Syrian-sponsored bombing campaign in Lebanon.
Moreover, huge critical situation has hit out in Lebanon seeks to hit more riots via a conflict with the Syrian government, which resulted division of Lebanon's religious communities into two parts – one Shias for Syria and other Sunni. Syrian has denied all the allegations and said the attack was of "terrorist act" which was unjustified.