Debt-ridden Kingfisher Airlines has reported a net loss of Rs. 755.17 crore in its the third quarter ended December 31, 2012, following a complete grounded row after losing flying license.
Vijay Mallya promoted Kingfisher once India's second-biggest reported in 2011 a net profit of approximately Rs.444 crore,  reports said.
Due to having huge loss and debt from banks, the company has in losses even time is to shut down for it.
From last year, the carrier has been in row of negotiating with its creditors and India's aviation authorities, failed to submit its revival plan as needs at least $186 million to fly again, following a strike by its pilots and engineers over non-payment of salaries for several months.
Over the pilots strike, the Director-General of Civil Aviation had temporarily suspended the permit of Kingfisher that grounded its fleet.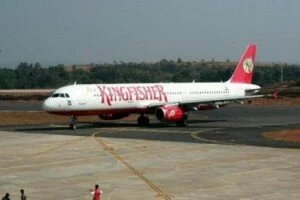 "During the quarter under review, Kingfisher did not have any operations. The company submitted a revival plan to the DGCA for renewal of its scheduled operator's permit and for restart of operations," the company said, sources said.
Its shares slashed 5% just a day ahead of report release, but company ensured to have significance progress as per the DGCA requirement.