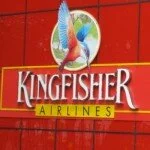 Kingfisher Airline which was going to shut down with its huge tremendous never ended troubles, now relief as its agitated staff including engineers, technicians and pilots have called off a long 26-day strike with promise to resume their work immediately.
The move came on the acceptance of Airline management of payment of three months overdue salary before Diwali to its staff by December resulting an immediate lifting 25-day lock-out and with biggest win, KFA management have discussed revival plans with DGCA .
The Director-General of Civil Aviation (DGCA) today asked Rs 7,524 crore debt burdened Airline to funding its plans from its internal sources as from the Vijay Mallya owned -United Breweries group, if it wants to get suspended flying licence and once again flying its grounded carrier.
he upcoming step was just to ensure a security and safety via airline that it would be able to carry out its operations.
And as per source, the airline is ready to fly the moment the suspension of its flying licence is revoked. While asking about DGCA's instruction to submit its winter schedule , airline CEO Sanjay Aggarwal said, "We have not submitted any revival plan yet. But we will present it soon. No time-frame has been specified."
Meanwhile, now Kingfisher Airline would ready to resume its operations, but it could take at least 3-4 weeks to progress as after KFA would submit its plan to the DGCA on safety issues after discussing with the stakeholders and lenders. The plan has supported by Airports Authority of India, other airport operators, oil companies and maintenance, repair and overhaul operators, as per DGCA saying.
After amid controversial as well as going to grounded situation, Kingfisher Airline might have to arrange Rs. 20 crore every month to make operation in normal manner. Still company not paying seven month due salaries which was the major cause of 25 days long strike, just paying three months salary to staff, but promising a well and structured revival plan for funding and financial operations ensuring resumption with flying licenses.