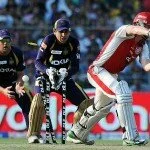 The Indian Premier League is at its full swing and today two matches will be played in the IPL 5. The fist match is on and two teams are Kolkata Knight Riders and Kings XI Punjab at Eden Gardens in Kolkata.
The skipper of the Kolkata Knight Riders, Gautam Gambhir has won the toss and elected to bowl first. His decision proved to be right so far, as four top order batsmen from the KXIP are out on just 87 runs on the board in 15 overs of the play.
David Hussey is the latest to go back to the pavilion. He was run out on 32 individual runs. Punjab is struggling today. Paras Dogra and Bipul Sharma are batting at the center.
The live scoreboard states KXIP 139 with the loss of 9 wickets in their limited 20 overs of play.
Sunil Narine was the pick of the bowlers, he took 5 important wickets in his 4 overs spell and giving out just 19 runs.
The bad form of the Punjab captain, Adam Gilchrist is on, as he was out on 5 runs, Shaun Marsh also fell cheaply today. After loosing the toss, Adam Gilchrist said, "In a T20 match, pitch conditions usually don't make a very big difference. So I'm okay with this. We just need to play good cricket."
However, Kings XI Punjab defeated Pune in their last match at home, and KXIP skipper would now expect his bowlers to do better job in the second innings.
Teams:
Kings XI Punjab: Paras Dogra, Adam Gilchrist, Shaun Marsh, Mandeep Singh, David Hussey, Harmeet Bansal, Piyush Chawla, Dimitri Mascarenhas, Praveen Kumar, Bhargav Bhatt, Bipul Sharma
Kolkata Knight Riders: Jacques Kallis, Gautam Gambhir, Manvinder Bisla, Manoj Tiwary, Shakib Al Hasan, Yusuf Pathan, Ryan ten Doeschate, Debabrata Das, Sunil Narine, Rajat Bhatia, Jaidev Unadkat
Umpires Asad Rauf (Pakistan) and S Asnani
TV umpire S Das
Match referee GF Labrooy (Sri Lanka)
Reserve umpire Premdip Chatterjee