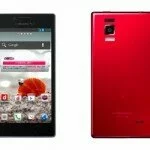 Finally first 4G LTE Smartphone supporting quad-core Snapdragon S4 Pro mobile processor is coming soon in the world market in next week with latest Adreno 320 graphics chip.
LG is going to introduce its first 4G LTE Smartphone called LG Optimus G in show event on September 19,2012 in New York, USA, collaborating with Qualcomm, reports said. As like Apple's iPhone5 event, LG also invites the media for launch, targeting huge customers' attraction that hike sale volume.
If talking about specifications, the LG's LTE smartphone is likely to come with a 4.7-inch True HD IPS touch screen 1280 x 768 pixel resolution display based on LG's latest G2 Touch Hybrid Display with full 1080p HD video recording.
LG is expected to add more efforts on its Optimus G to make it slimmer and stylish shaper designed smartphone which is said to run on Android 4.0 ICS version and supports a 13-megapixel image sensor, an ultra slim camera offering high qualitative pictures with Optimus 3.0 user interface.
Interestingly, LG is seem to offer something big as the latest device will have NFC, 2GB RAM and 32GB of built in memory, packs with Quick Memo and Dual Play features with 1.3 megapixel front facing camera and in part of connection, there will be GPS, WiFi, DLNA support , Bluetooth 4.0 and USB.
Still there is no detail regarding price of this slimmer, shaper and faster processor speed with LTE capability support LG Optimus G, but expected that to be high as per its high features.