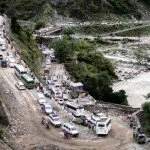 According to latest reports, series of cloudbursts were reported in Uttarakhand since last night resulting landslides and flash flood in the region. Reports have said that around 33 people were killed, 35 went missing and several were injured in many parts of the state.
The highly hit area with the flash flood was Ukhimath are in Rudraprayag district as the cloudburst flattened dozens of homes in as many as eight villages and 29 people were killed. Around 35 people went missing and 15 were injured and admitted to the nearby hospitals.
Talking to media, Piyush Rautela Executive Director of Disaster Management and Mitigation Department (DMMD) said, "29 bodies have been recovered so far and 35 persons are still missing."
He said, "Villages like Chunni, Mangoli, Kimana, Sansari, Giriya, Brahmankholi, Premnagar and Juatok in Ukhimath area were the worst hit."
After the natural disaster, officials have started working and relief camps were made with he help of army and ITBP forces, but it is still raing in the region.
Around 120 army and ITBP personnel had reached the location and a chopper is kept on the standby for emergency.
Further, the DMMC official said, "Communication and power lines were disrupted and traffic along several roads, including national highways in the area, was affected."
The Rishikesh-Badrinath and Rishikesh-Gangotri highways have been closed due to heavy rain. Chief Minister Vijay Bahuguna has asked the District Magistrate to take required actions and rescue operations on a war level.