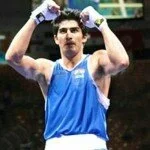 Haryana top boxer Vijender Singh took one step ahead in the Boxing competition and entered into the quarter-finals of the men's 75 kg boxing category at London Olympic.
Quelling his US opponent Terrel Gausha 16-15 at the ExCel Arena, Indian boxer star recorded victory with one leading point on Thursday.
The former World No. 1, Vijender warmed lightning fast Gausha with a well played bout using his excellent skill and strategy, taking advantage of his well height to take him under his power.
In a round of 16 middleweights much thundering contest, all the stadium was sounded of "India, India", the 26-year-old Vijender with his tactics beat Gausha in the first round with lead 4-3 score. In the second round, talented Gausha came up with constant punches, but well formed Vijender avoided all one by one and ended the round with a 5-5 scoreline.
In the third round of hunt, Vijender adapted excellent strategy, launching the attack against American with his powerful fists to limit the damage by quickly moving out of harm's way. But, reports said, the American was equal to the task a 7-7 deadlock as he fended off the punches deftly and counter attacked fiercely.
Now after a 7-7 deadlock that ensuring future hopes of the Beijing Olympic Games's bonze medalist, Vijender, will now come on quarter finals stage to fight against Uzbekistan boxer Abbos Atoev .
If Haryanavi boxer will succeed to set win over Atoev, it will assure a bronze medal for India at Olympic.