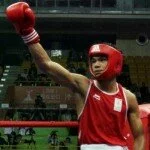 In a much embarrassing reversal of fortune, Indian Boxer Vikas Krishan who reached the quarter-finals in the 69 kg category knocked out from the London Olympics while just few hours later AIBA was overturned his victorious pre-quarterfinal bout.
21 years old Krishan had quelled his opponent Errol Spence of USA at the ExCel Arena in London on Friday night in a thrilling boxing contest with 13-11.
Shockingly after 5 hours, the International Amateur Boxing Association has "unanimously" declared Spence as the winner with four extra point's award. Now a total of 15-13 bout is in favour of Spence after his team management's appeal.
Meanwhile, India's biggest hope ruined while Vikas ousted from London, the second Indian boxer after Vijender to win a bronze medal in the World Championship.
Much disappointed by AIBA's decision, the Indian Olympic Association (IOA) vice president Tarlochan Singh declared AIBA's decision a complete wrong and political.
"I will be meeting the Indian boxing team and then we will decide the future course of action," Indian Chef-de-Mission PK Muralidharan Raja told reporters while rejecting boxing federation's decision on Vikas Krishan.
"There were a total of nine (9) holding fouls committed by the Indian boxer in the third round alone. However the Referee only gave one caution," AIBA said after reviewing by its Competition Jury, as per reports.
It further added, "In the second round, at the time 02:38, the boxer from India spitted out his gumshield intentionally. However the Referee didn't give any warning."
AIBA's review system has always been in controversy with its criticized scoring system in ongoing Boxing at Olympics. Now, Spence has moved into the quarterfinals and will fight against Russia's Andrey Zamkovoy on Tuesday.