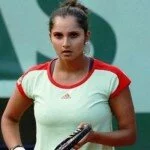 The tennis queen of India, Sania Mirza has recently in an interview that the India tennis federation has used her as "bait" to calm down doubles specialist Leander Paes as difference are still on the selection of Indian tennis team for the London Olympics 2012.
Meanwhile, the All India Tennis Association (AITA) was forced to name two men's team for London Olympics after Mahesh Bhupathi and regular partner Rohan Bopanna refused to pair with Leander Paes.
Laste week, AITA announced in a press that Leander Paes will pair with Vishnu Vardhan while the Bhupathi-Bopanna partnership would remain intact for the July 27-August 12 Games.
An official from AITA said, "Paes would partner Sania Mirza in the mixed doubles, something perceived as a compromise for the men's doubles world number seven after AITA's plan to send the strongest men's team on paper came undone."
However, Sania Mirza said, ""…what I find disillusioning is the humiliating manner in which I was put up as a bait to try and pacify one of the disgruntled stalwarts of Indian tennis."
Meanwhile, Sania Mirza moved to Dubai after her marriage with Pakistani cricketer Shoaib Malik. She said, "This kind of blatant humiliation of Indian womanhood needs to be condemned even if it comes from the highest controlling body of tennis in our country."
Sania Mirza earlier won the French Open mixed doubles title with Bhupathi in June 2012. she said that she is ready to pair with anyone in the London Olympics 2012.
Sania Mirza said, ""…I can assure all my countrymen that I shall never allow these difficult circumstances to come in the way of giving my very best when the Games begin."
On the other hand, federation secretary Bharat Oza said, "AITA respects all its players and is fully aware of the accomplishments of Sania Mirza as an excellent tennis player."
"AITA believes that Leander and Sania together are capable of producing fantastic results at the Olympics," Oza said.
Oza added, "We earnestly appeal to all the players to unite together, shed off all their differences, stop going public and join hands together in the best national interest of winning medals for the country and to bring glory to the nation."