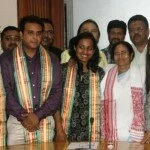 London Olympics bronze medal winning woman boxer M.C. Mary Kom Thursday received a a cash award of Rs 2 lakh from West Bengal Chief Minister Mamata Banerjee for her historic feat.
Mary Kom called on Banerjee at the state secretariat, Writers' Buildings.
Earlier, the mother of two – the first Indian woman boxer to win an Olympic medal – was the cynosure of all eyes at separate felicitations organised by some northeast-based NGOs and the Bengal Chamber.
The Assam government has pledged Rs.20 lakh for Mary Kom which would be given to her once the situation normalises in the violence-hit northeastern state.
At the Bengal Chamber, she was presented a boxing glove shaped cake, a plaque and a bouquet.
Speaking to media persons on the sidelines of the programme, Mary Kom said she was not satisfied with the bronze at London and would aim for the gold at Rio de Janeiro four years later.
"The whole country was elated after I won an Olympic medal. There's so much adulation for me wherever I go. People say 'We're proud of you' and so on. But as far as I'm concerned, I'm still not satisfied with what I've done so far.
"The colour of the (bronze) medal is not something that makes me very happy. And I would certainly want it to change in 2016. At the moment, I can only say Mary Kom is not yet proud of herself," she said.
However, Mary Kom said she would be competing only in the 51-kg category from now onwards to take her game to another level.
She urged the Boxing Federation of India to lay stress on boxers from the northeast, saying there was a lot of untapped talent in the region.
"BFI's attention is needed. Federation officials should visit these states more and more and help aspiring sportspersons there with their requirements," she said.
However, on a sour note, she said despite her personal request, the Manipur administration had not done anything regarding providing indoor facilities for her academy in Imphal.
Banerjee also felicitated four sportspersons from West Bengal – Jaydeep Karmakar (shooting), Rahul Banerjee (archery), Soumyajit Ghosh (table tennis) and Ankita Das (table tennis). Das could not make it to the function and was represented by her father. (IANS)