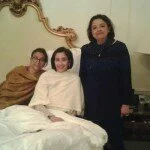 The Bollywood actress Manisha Koirala who was diagnosed with ovarian cancer has underwent a surgery in New York a day before and reports have said that the surgery was successful.
Earlier, the Hindi film industry and her fans were saddened after news hits that she is suffering from cancer. The actress was first hospitalized in Mumbai and later she went to New York for further treatment.
Actress Manisha Koirala posted her latest photo on twitter before surgery.
It is said in news that the actress went to New York with her family, and before surgery she tweets, "Dear friends I m writing this as a request..pl no sadness,I hv told my closest friends n fam too..this is part of life..I m fine n will be fine no matter th out come..I m in gratitude with all the gifts I hv received from this life..like your love n prayers..lets celebrate life in all forms..thank you again for ur prayers…love m."
The actress further adds Rabindranath Tagore's lines, "'Let me not pray to be sheltered from dangers,but to be fearless in facing them.Let me not beg for the stilling of my pain, but for the heart to conquer it'- Rabindranath Tagore."
Meanwhile, Manisha Koirala was last seen in RGV's Bhoot Returns in 2012.