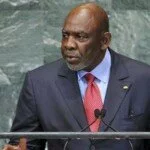 Mali's Prime Minister Cheik Modibo Diarra early on today decided to resign himself and his government, following order of Soldiers who led ex-coup leader Amadou Sanogo.
Depressed with recent volatile political situation, the 60-year-old Diarra addressed the nation through a brief speech given at the premises of, and aired on national television, while giving no reason for his resignation decision.
"Our country is living through a period of crisis. Men and women who are worried about the future of our nation are hoping for peace, Diarra said, as per source, adding, "It's for this reason that I, Cheik Modibo Diarra, am resigning along with my entire government on this day, Tuesday, Dec. 11, 2012. I apologise before the entire population of Mali."
Move came just hours after soldiers smashed in the door of the prime minister's residence and arrested him a bit violently.
According to reports, about 20 soldiers were come from Kati military camp led to the March 21 coup in the African nation, outside Bamako. Soldiers on the orders of recent coup leader Sanogo, had driven Diarra to the Kati and ordered to resign.
In Mali's north, situation has been violating between the coup and Diarra over power handing.
According to source, Yerewoloton group linked to the junta stormed the Bamako's international airport where Diarra's plane was ready to take him to France as of his departure from country. But fortunately, he cancelled his plan as he learned his baggage had been taken off the plane.
Diarra is an astrophysicist who has worked on several NASA space programs including recent one of Mars exploration. He has also served as Microsoft's chairperson for Africa.