The captain of the Indian cricket team, MS Dhoni has been selected as the new vice-president of India Cements, a firm which is headed by BCCI President N Srinivasan.
MS Dhoni has recently resigned from Air India and now the cricketer will play for his new team in the BCCI Corporate Trophy, which started from today.
Earlier, MS Dhoni had said to take a break from Australia's tour to India, but now he will play in the BCCI Corporate Trophy.
Further, his new team, India Cements, is also owners of IPL franchise Chennai Super Kings and MS Dhoni is the captain of the team since 2008. N Srinivasan is the Managing Director-cum-vice-chairman of the company.
Though, Doni's inclusion into the India Cements team only came into lights few days back, when his name was announced in the squad and thereafter Chennai Super Kings official has confirmed the news.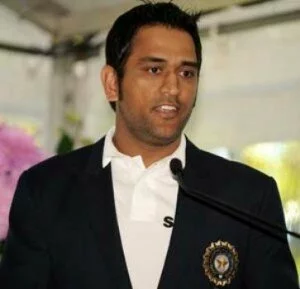 MS Dhoni has full support from Srinivasan, who reportedly refused to remove Dhoni from the captaincy position even after team India's poor show during test series against England, Australia and once again against England at home last year.
Dhoni announced his unavailability for the Irani Trophy but now playing in the Corporate Trophy started from February 1-8.
The Corporate Trophy will be held in four cities – Pune, Nagpur, Indore and Raipur. The Irani Trophy will be held in Mumbai from February 6 to 10.