The much beneficial Etihad –Jet airway deal seeks to bring a fresh revival for India's foreign direct investment policy in civil aviation, raising growth of domestic market.
Industry Body Assocham has asked government to expedite all the mandatory clearances from the Foreign Investment Promotion Board and even from RBI and give effect to the proposed Jet-Etihad deal, reports said.
"After the Etihad-Jet deal, fresh efforts should also be made to revive the grounded Kingfisher Airlines," it added.
A leading business chamber Assocham also hinted that Jet-Etihad deal would infuse new lease into life of the declining Indian aviation sector, not only improve the financial position of Jet Airways but also bring several operational benefits.
It has been expected that Abu Dhabi's Etihad Airways will announce a deal to buy a 24% stake in Jet Airways soon, being make the first one of a foreign airlines which buy a stake in an Indian carrier under new reform of FDI.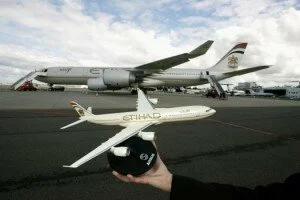 Since the Jet-Etihad deal's reports spread into the market, a positive sign seen among global investors who are eagerly wait to invest in different sectors of the economy.
To make a round of the corner for a stake-sale deal of Jet-Etihad, earlier a meeting was held by a joint delegation of both companies to Finance Minister P. Chidambaram Thursday, reports said.