According to breaking news, the passengers of the Howrah-Guwahati down Garibrath Express had a narrow escape on Sunday, when a powerful bomb blast took place on the railway tracks.
It is further said in news that the blast occurred just few minutes after the train passes Goabari in lower Assam's Kokrajhar district. There was no casualty or injury.
Further, officials said that the bomb was might be planted by the anti-talk faction of the National Democratic Front of Bodoland (NDFB).
Police officials told media that the bomb blast occurred at 1:10 pm on Sunday, February 3, just two minutes after the train passed the area between Gossaigaon and Fakiragram.
Talking to media, police official said, "blast blew away three feet of railway track and left a two feet deep crater at the spot."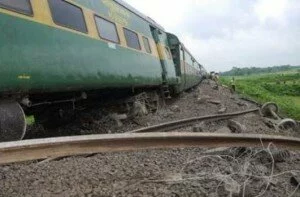 Thereafter, the train service in the region was affected for about 5 hours. Now, the train line was repaired and trains services are working as their routines are scheduled.
An official from Railways said, "As the railway line is a double track one, the trains scheduled to pass over the damaged track were diverted to the adjacent one."
On the other hand, the securities have started their search operation to nab the ultras.