A suicide car bomb blast triggered by grenade-throwing gunmen in police uniforms rocked a police HQ in a disputed city in north Iraq on Sunday, killed 33 people.
At least 90 people were injured including local police officers of the police directorate, reports said.
The vehicle packed with explosives was a police car, in central Kirkuk hit the entrance of the headquarters and after a bomb blast, gunmen in explosive vests attacked with AK47s and grenades, a police official said, source said.
The suicide bombers and gunmen had tried to seize the compound, source said, but failed and killed by police.
According to media information, there were two militants armed with guns, grenades. A huge damage had triggered with lose of life after a bomb blast, left bodies under rubble at nearby government offices.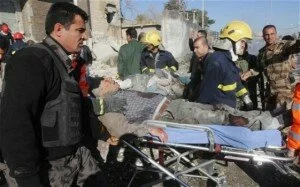 No group has reported to claim responsibility to carry out the attack. But Sunni Islamist militants tied to al Qaeda and Kurdi are in active, often attack security forces and government.
Kirkuk is ethnically mixed city, of the northern Iraq, of Arabs, Kurds and Turkmen. It is the heart of a dispute between Baghdad government and the Kurdistan rebel group over oil and land rights.