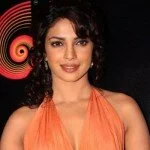 The Bollywood actress Priyanka Chopra is know in the industry for doing non-conventional films like `7 Khoon Maaf` and `Barfi`, has recently said that her next film on boxing champion Mary koom will be the different film next year.
Sharing views with media, Priyanka Chopra said, "I do at least one film which is challenging for me every year. Mary Kom is that film for next year. If you meet her in person, you will see she is so sweet….can`t imagine her to be a boxer."
When asked about the preparations for the role, Priyanka said that the training is on and she hopes that she can play Mary Kom's role well.
The actress said, "There is a lot of training going on for it. I hope I can pull it off."
However, her newly launched album 'In My City' was highly loved by fans, Priyanka does admit that her strong Bollywood career has supported this success
Priyanka said, "I have done films for so long and my fans have always supported me. It is easy for me to do conventional films, but then I want to try something different."
in addition, Priyanka Chopra is currently working on four projects for 2013 release- a remake of `Zanjeer`, `Gunday`, the film on Mary Kom, and `Krrish 3`.
Media if she is singing in any of her next film? The actress said, "I have not planned anything. I am new to all this."