Microsoft's twist on email, with introduction of its Outlook.com, has moved out of its preview stage is now a full-fledged service available globally.
Meanwhile, the "preview" label off of Outlook service, offers integration with your Windows 8 PC/Tablet/Phone and now all Hotmail accounts as well as other different domains holding will be automatically transitioned to Outlook.com by end of summer.
Microsoft's new move to integrate all properties under one brand name, is expected to make it the Internet's best email service, seeks to attack rival services from Google, Yahoo, AOL and a long list of Internet service providers, reports said.
There will be no changes in the existing hotmail.com accounts of users as all the old messages, contacts and settings in the old inboxes will be exported to Outlook.com. Users can keep their beloved email address even check their inboxes on their smartphones.
Outlook.com is the biggest launch at a large-scale offers free Word, Excel and PowerPoint web-apps, Skydrive integration includes a much neater and minimalistic interface and Microsoft's Windows 8 UI ethos.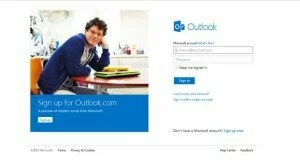 Interestingly, the company's only free-of-charge e-mail service will offer one single Microsoft ID, for all login such as Xbox Live service, SkyDrive and the new Outlook web-mail service.
'An anti-Gmail marketing campaign' feature of Outlook seems to be the toughest for Google's Gmail, while best for Microsoft which as per sources, will offer ads running on primetime TV, radio stations, websites, billboards and buses through its Outlook.com.
Since launch of Outlook.com in a "preview" phase in July 31, 2012, Microsoft Corp. claimed to have lured 60 million accountholders, including about 20 million from Gmail.
The Gmail ads are meant to be educational while the Outlook campaign is motivational, Dharmesh Mehta, Outlook.com's senior director told reporters.
He added, "We are trying to push people who have gotten lazy and comfortable with an email service that may not be all that great and help show them what email can really do for them."