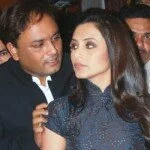 The latest Bollywood buzz was that Mumbai police had yesterday arrested Bollywood actress Rani Mukherjee's brother, Raja Mukherjee in the Versova area of Mumbai on Sunday.
Earlier, he was arrested after a TV actress filed a molestation complaint against him.
"The woman had gone to show Raja Mukherjee a script. He tried to molest her in the car," said ACP Narsingh Sherkhan.
Meanwhile, Raja Mukherjee has been released on bail today.
However, a case under section 354 of the Indian Penal Code had been registered against Raja and he had been sent to the Andheri jail by the police officials.
The TV actress said media that Raja Mukherjee had called her to his office to narrate her script.