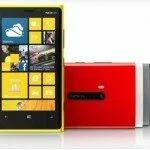 Upcoming Nokia Window Phone 8, Lumia 920 will going to be teamed up with AT&T Inc. for rolling out in U.S. in November 2.
For Nokia which downed from its World's largest phones maker rank, this decision is critical one as the company need to expand customers demands, especially US market where it has lead very small.
AT&T said, "Exclusive to our customers and featuring unique innovations in imaging technology, wireless charging and a bright, sensitive display – all on the nation's largest 4G network – the Lumia 920 will be one of the hottest phones for the holidays."
In U.S., AT & T will be the only that sell Nokia's one of the flagship Lumia 920 phone and also later the cheaper Lumia 820, just 4 days after Microsoft's latest Windows Phone 8 launch held on likely October 29.
However still, no officially announcement has been made by the company.
Meanwhile, Nokia best featuring handsets with a 4.5-inch multi touch display, next generation Snapdragon S4 CPU processor and PureView sensor are showcased in front of U.S. market in November 2, no word on pricing revealed.