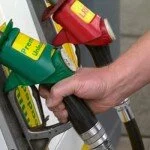 The hike of Petrol prices upto Rs 7.50 per litre last week, moved in a nationalwide strike, called by the NDA, Left parties and many key allies of the UPA on Thursday, hitting worse the transport routes.
The government still with its node not to reduce the hike as long as opposition pressure, but source said that there is more chances to reduce petrol price by Rs 1.50-1.60 a litre by the oil companies on Friday, or may be in the middle of next week.
On Thursday, the oil marketing firms indicated that the reduction in petrol prices was by reducing the aviation turbine fuel (ATF) upto 2 per cent. Source reported that the price of ATF in Delhi was reduced by Rs 1,376.81 per kl to Rs 65,670.14 per kl with effect from midnight.
The revision of price has made on the average international oil price and rupee-US dollar exchange rate in the previous fortnight, existing reduction of prices by Rs 1.50-1.60 a litre by three oil firms, R K Singh, chairman and managing director of Bharat Petroleum, told reporters.
But the government sources refused to have a certain cut as the company gives the rupee's continued slide against the dollar, means consumers would be paying more than they should for the next few days.
Meanwhile, the ministry asked the oil companies to raise the cut as soon as possible, hoping on June 1, citing emerging price trends in Singapore bulk market for crude and gasoline.