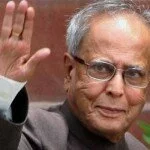 After a long silence, finally Congress chief Sonia Gandhi on Friday announced the name of Union Finance Minister Pranab Mukherjee for the UPA's Presidential candidate as ending a long misery of the Nehru-Gandhi family's candidature in the race of Rashtrapati Bhawan.
It has cleared that Mukherjee who favored by many allies and opposition party, is all set to be the 13th President of India, addressing his 45-year-long run in active politics.
Although there were many nominees in the race of Presidential Polls, but on Friday after a long UPA's meeting the decision has gone in favor to Mukherjee known as one of the trusted men of Indira Gandhi even during the emergency.
Gladly welcoming the son of Bengal, Mukherjee's candidature, West Bengal celebrates this moment of one of its own becoming the first citizen of this country, while the State and Trinamool Congress Chief Minister Mamata Banerjee remains defiant on opposing Mukherjee's nomination, according to source.
However, Mamata was interested in name of former president APJ Abdul Kalam and former Lok Sabha speaker Somnath Chatterjee to enter the fray, but UPA's final decision being angered West Bengal Congress that now plans the party to pull out of the TMC government in the state.
Talking to reporters, State Congress President Pradip Bhattacharya said, "40 out of 42 MLAs have resoled that they are uncomfortable with the alliance with Mamata and they have condemned Mamata's behaviour."
What ever reason may be, but it is showed the end of a fight between two famous Bengalis and Pranabh Dada will now perform in the next general elections as head in making decision regarding selection of a particular party leading a new government.