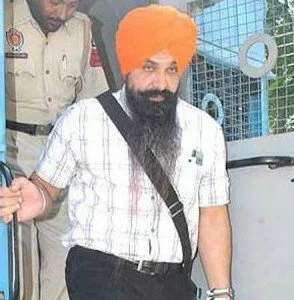 The Punjab state has been on a very high alert today as a one-day long state-wide bandh has been called yesterday by several Sikh groups in the state to protest against a Chandigarh court order that Balwant Singh Rajoana, main accused in the killing of former Chief Minister Beant Singh, be hanged as scheduled on March 31.
Reports have said that around 60,000 Punjab police personnel including 15 companies of para-military forces have been deployed in the various parts of the state to avoid any mis-happening ahead of Balwant Singh Rajoana's execution.
Punjab government has fixed prohibitory orders under Section 144 banning gathering of five or more persons were at various places in view of the bandh.
Above all, high security has been ordered around the Patiala Central Jail, where Balwant Singh Rajoana is lodged. Jail authorities have deployed high security allover the jail.
On the other hand, the chief minister of Punjab, Parkash Singh Badal is likely to meet Prime Minister Manmohan Singh and President Pratibha Patil today evening.
Punjab CM will meet PM and President to seek to meet PM, Prez to seek their intervention in saving Rajoana from the gallows
In a statement issued by the Shiromani Akali Dal (SAD) said that his government would support the Shiromani Gurudwara Prabandhak Committee (SGPC) sent to President seeking conversion of Rajoana's death sentence to a life term.
Talking to media, Punjab CM said, "My plea to the President is that the case is still on and no action should be taken yet. The law of the land must be upheld. I shall meet President Pratibha Patil on Wednesday."
Reports have said that latter says that there was no need for anyone to seek clemency for him. Balwant Singh Rajoana also denied accepting any kindness from the BJP, Capt Amarinder Singh or from late CM Beant Singhs family members.
Rajoana handed over the latter to his sister, Kamadeep Kaur, and she gave the latter to Akal Takht.
The latter said, "I have fought for my rights all through my life. I do not want to give away my principles for anyone."