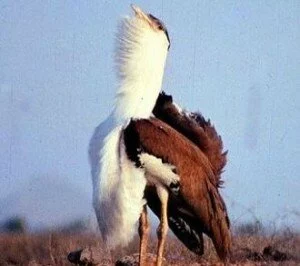 According to the to the International Union for Conservation of Nature (IUCN) Red List of Threatened Species, a large amount of species of Indian birds, more than 14 species are very close stage of extinction due to illegally hunting, excess use of pesticides result in habitual destruction.
The species of birds those are under critically endangered include Siberian Crane, Bengal Florican, White-rumped Vulture, Indian Vulture, Himalayan Quail, Forest Owlet, Red-headed Vulture, Pink-headed Duck, White-belled Heron, Sociable Lapwing, Christmas Frigatebird, Jerdon's Courser, and Spoon-billed Sandpiper.
In her written commitment, minister of environment and forests Jayanthi Natarajan said, "The major threats being faced by these bird species include habitual destruction, poaching, indiscriminate use of pesticides and chemicals harmful to birds etc."
Dismissing chances of "National Bird" "Peacock" to have listed in the endangered birds, she said, "14 species of birds from India are the critically endangered, which do not include peacocks."
Observing worries over the life of birds, the government decides to take strict action to protect these under threat of extinction birds.
For punishing those criminals who breach the law by killing birds, the Wildlife Protection Act, 1972 has been established. However to handed over the control of illegal trade of birds of low members, Wildlife Crime Control Bureau has been set up.
The minister informed that study over the matter of communication towers' impact on wildlife is under process in the "Expert Committee" report, ministry is examining this fact very seriously and tried to solve very quickly.