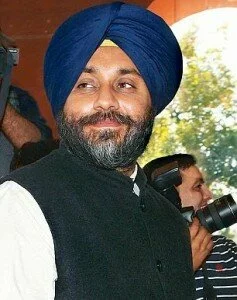 Once again after broke record of 43 years history, Shiromani Akali Dal comes into existence by putting victory in assembly election with a huge margin.
On Tuesday, results for the 117-member assembly were declared and beating all of them, Shiromani Akali Dal president Sukhbir Singh Badal had addressed the highest victory margin by grabbing 68 seats out of 117.
Badal won seats by defeating his competitor the Congress dissident Hans Raj Josan by a margin of 50,246 votes. And on other side, Vikram Singh Majitheya, Sukhbir's brother-in-law, wife Harsimrat Badal's brother, was also won by a huge difference of voting with 47,581 against his rival candidate.
However Akalies faced lower voting on the Phillaur seat, Jagraon and Ferozepur-rural, but its enough for them to win.
A biggest fact is that in fifth times, again Parkash Singh Badal is succeeded to manage his Chief Ministery by won his Lambi assembly seat with more than 24,700 votes against his cousin, Maheshinder Badal of the Congress.
And on 8th of March meeting of SAD-BJP leaders, Sukhbir Singh will announce the name of his father, Prakash Singh Badal for addressing position of Chief Minister.
Badal was facing so much depression and circumstances inside his family matters, but he very specifically managed his position and that's result his victory.
Captain of Punjab, Congress president Amarinder Singh was grounded with his hopes of the Congress returning to power.
Congress failure to win the supporters faith, despite it Captain won his Patiala assembly seat by over 42,300 votes that was a really "surprised". Raninder Singh, the son of Amarinder and union Minister of State for External Affairs Preneet Kaur, lost the Samana seat by over 6,900 votes.
Over all this Punjab assembly elections has named of Badal who had won 8 more seats than 2007 polling. Along with Akali, BJP also put its impression by standing with a fair response. The Akali Dal-BJP has created history by coming to power in against of Congress, for a second consecutive term.