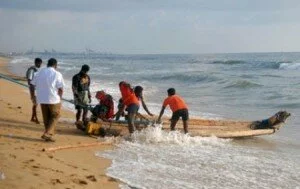 In the early hours on Thursday, a second incident of killing two fishermen, two injured and three missing has happened when an unidentified ship collided with a fishing boat off Alappuzha coast in the Kerala in the last fortnight.
"Our law enforcing agencies are in the hunt to locate the ship that hit the fishing boat, and from what we have been able to gather is that the incident took close to 2 am on Thursday," State fisheries minister K Babu said in a statement.
As per report, "Dwan-II ", a fishing boat had left to sea from Alappuzha coast, on Sunday for deep sea fishing with seven fishermen. Out of them two fishermen, Xavier and Justin were rescued by the crew of other boats in the sea.
The injured fishermen admitted to the hospital and one of them informed that the ship appeared to be a cargo freighter, hit the boat that was anchored at sea.
This second unfortunate incident happens just after 1 week, from arresting of two Italian marines of the Italian ship Enrica Lexie for killing two Indian fishermen on Feb 15 after mistaking them to be pirates.
Moreover an investigation has been issued by the Navy, Coast Guard and Marine Enforcement. The Kerala chief minister Oommen Chandy expressed grief and asked Kollam Police force to find out how exactly the mishap occurred.