Amidst gig by newly-elected BJP president Rajnath Singh over Commenting on Gujarat CM Narendra Modi-PM candidature, the Vishwa Hindu Parishad's (VHP) steering committee is likely to openly announce its support to Modi.
The Vishwa Hindu Parishad's (VHP) steering committee is meeting for the next two days in. All eyes are on the Hindu outfit as it is likely to openly support Narendra Modi's name as the BJP's prime ministerial candidate.
In Allahabad on the Maha Kumbh Mela, the VHP's Kendriya Marg Darshak Mandal will meet for two days, debating on declaration of Modi as PM candidate.
Despite BJP President's instruction not to comment over this Modi-PM issue, VHP leader Ashok Singhal said, "If people themselves are demanding that Modi should be made the PM candidate then BJP will also have to think about it. Such a thing is happening for the first time", reports said.
Earlier Rajnath called Modi as a very popular and strong leader, but he also urged  party members not to speculate the issue as only the BJP's central parliamentary board can take a decision on it.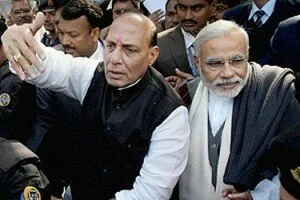 "I am appealing to all my leaders of BJP and workers not to speculate or give any statement on BJP's PM candidate," Rajnath said in a statement.
"If any decision is to be taken on PM candidature, only  central parliamentary board will decide, we should not speculate on this," he further added.