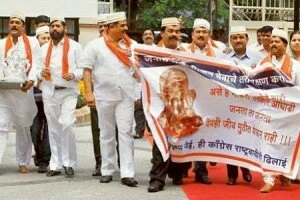 Reports have said that a total of 14 MLAs were suspended which includes 13 MLAs of the Shiv Sena and one of the Bharatiya Janata Party (BJP) from the Maharashtra legislative assembly for a year after they stalled proceedings.
The declaration of their suspension was made on Friday.
It is said that the members were protesting the state government's collapse to get rib of the culprits who stole a 1.50 kg gold idol of Lord Ganesh from the Diveagar temple in Raigad district last Saturday. One security official was also killed in hat incident.
The riots started yesterday afternoon when Shiv Sena activist, wearing caps and saffron robes, carried a silver-plated idol of Lord Ganesh inside the house, playing cymbals and chanting "Ganpati Bappa Morya, Ganpati gele chorila, laa nahi sarkala (Lord Ganesh has been stolen, but the government has no shame)" inside the house.
Later when Shiv Sena activist Pratap Sarnaik started his speech in the House, the Speaker Dilip Walse-Patil asked him to remove the cap and saffron robes before starting his speech. However, he replayed by singing a Ganesh prayer (aarti) and other Sena legislators joined in chorus, which results 30-minutes delay in the house working.
When the house working started again, Shiv Sena activist gathered near the speaker's podium. Though, the deputy speaker tried to convince them and told tem to go back to their seats.
Congress party leader Shashikant Shinde, slamming the Shiv Sena members for "politicizing" the issue and treating the state's most revered deity in such a manner, termed it as "an insult of the lord and house".
Shinde said, "I want an inquiry into whether the idol has really been stolen or found and hidden by somebody."
Parliamentary Affairs Minister Harshwardhan Patit then brought up a resolution looking for the suspension of the members following the two adjournments which was passed by a voice vote.
The suspended members are Sarnaik, Mahadev Babar, Vijay Shivtare, Eknath Shinde, Vinod Ghosalkar, Rajan Vichare, Dyanraj Chougule, Sanjay Gavande, Sujit Minchekar, Abhijit Adsul, Balaji Kinikar, Chandrakant Mokate and Daulat Daroda (all Shiv Sena), and Ram Shinde (BJP).
Sparking on the state government, Leader of Opposition, BJP's Eknath Khadse and Shiv Sena leader Subhash Desai said that the action against the legislators was taken as the state government wants to avoid the matter.
Talking to media, Eknath Khadse said, "Though the protest was not appropriate, I feel the punishment has been too harsh."