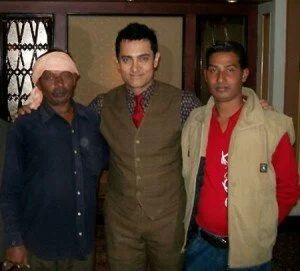 The Bollywood actor Aamir Khan has once again proved that why he is called the best actor in the industry, and he is indeed a man of words.
The Bollywood actor made his kept his promise and appeared at the wedding ceremony in Varanasi to keep up his commitment.
Further, reports have said that the groom, Rajeev, felt all this like a dream come true and he couldn't believe his eyes as he could never imagine having a superstar like Aamir Khan at his wedding.
Talking to media, the groom said that it was nothing less than a miracle to me. Rajeev is a son of auto-rickshaw driver Ramlakhan Paswan, whom Aamir Khan had met in December 2009.
Further, the Auto-driver Ramlakhan, who also known as Nathuni, had helped Aamir Khan to find-out the house of his maternal grandmother. As a token of thanks to the auto-driver, actor Aamir Khan later sent him air-tickets for Mumbai to attend the premiere of '3 Idiots'.
While talking to media, Nathuni said, "Initially, Aamir had assured to send his blessings through a video CD, but recently he confirmed that he would be attending the marriage function in person."
The Ramlakhan Paswan and his family was certainly on cloud nine after hearing the news of Aamir Khan's arrival.