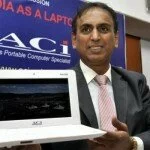 As per latest Technology sector news, the UK-based computer manufacturer company ACi has announced the launch of low-cost laptops in India.
The company announced that the laptops are fully-functional high-resolution screen with the price tag of Rs 4,999.
Meanwhile, laptops will be on sale in the country by a BSE-listed group company, Allied Computers International (Asia) Ltd.
During the launch event, ACi's India marketeer Allied Computers International's (Asia) Managing Director Hirji Patel said, "We have launched India's super low cost laptop at Rs. 4,999. It will be a fully functional, Windows compatible laptop, at the lowest price tag in the country."
However, ACi plans to sell 2 lakh laptops in the country in the first year. Mr. Patel said, "ACi India offers laptops and PCs in the Indian market with innovative design."
While talking about the capability of the project, he said that ACi will import products from China and sell in India at a very less profit.
He said, "We will never compromise on quality with price. The range we will be offering are carefully designed and developed just like majority of our models launched both in UK and India."
He said that Indian people buy just 2.5 million laptops per year, which is just 10 percent compared to Western nations like United Kingdom and other European nations. With the launch of such low-cost laptops in electronic market of the country, state governments can provide such laptops to students.
Mr. Patel told media that state governments such as Tamil Nadu and UP can now provide low cost laptops to students and ACi is looking forward to provide more laptops to other state governments.
In the meantime, Mr. Patel established the ACi Company in the UK in 1992 and the company first launched its custom-designed ACi NotePro in India in 1993. ACi has now launched several low-cost laptops in the country, mainly on sharp discount to competing products.