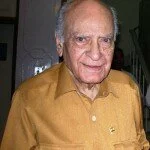 As per latest reports, the veteran actor of Bollywood, AK Hangal was put on life support system after he was admitted to the hospital on August 26.
The actor is 98-years-old, and was admitted to Asha Parekh hospital in suburban Santacruz.
While talking to media, Dr Vinod Khanna, Orthopaedic surgeon at Asha Parekh hospital said, "He is on life support system. One of his lungs is not functioning. He is also having respiratory problems."
It is said to media that the actor was slipped and fell down in his bathroom on August 13, fracturing his right femur bone.
Due to his weak health condition, doctors could now operate on him.
Meanwhile, AK Hangal has acted in more than 200 films and is best remembered for his remarkable roles in films like Sholay, Namak Haram, Shaukeen, Aaina, Bawarchi and many more.
The actor was last seen on TV screen while talking parting a TV show 'Madhubala'; he faced studio lights after seven long years. The daily soap is aired on Colors TV.