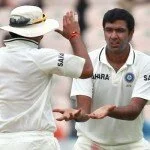 Ravichandran Ashwin is the new hero from Indian cricket team taking career-best 6/31 runs as India takes a big lead over New Zealand in the first test match played at Rajiv Gandhi International Stadium in Uppal, Hyderabad.
Indian bowler started the third day play with full control on the Kiwi batsman, as New Zealand added just 53 runs to their total. New Zealand team was all out till lunch 159/10 in 61.3 overs, JEC Frankin was the highest scorer from his team with 43 runs.
New Zealand then started their second innings and lost opener MJ Guptil on 16 runs, Ojha took his wicket. New Zealand is now batting at 41/1 in their second innings and still need 238 runs to pass India's 438 runs, with just nine wickets in hand, and two day's play is still on.
Ojah also took 3 wickets in his 21 overs spell giving away 44 runs. Umesh Yadav took one wicket.
Earlier, India made 438 runs in their first innings with newcomer Cheteshwar Pujara hitting 159 runs and captain MS Dhoni hitting superb 73 runs. Virat Kohli also played superbly making 58 runs.