According to latest Bollywood buzz, film actor Akshay Kumar and filmmaker Karan Johar have joined hands to produce a film and the film will be directed by Punit Malhotra, who earlier directed 'I Hate Luv Storys'.
It is said that Akshay Kumar will be playing one of the lead roles in the films while the other lead actor name will announced next week.
Talking to media, filmmaker Karan Johar said, "I can't divulge too much now. But what I can definitely say is that the movie is mainstream and has a very strong underlying social message. It's solid and hard-hitting. Punit brought me this amazing script. I immediately approached Akshay and he was equally thrilled with the idea."
When asked about actor Akshay Kumar, Karan said, "If Dharma Productions has to collaborate with Akshay, then it has to be the right kind of film. And, as I said earlier, this one, apart from being commercial, has a strong voice."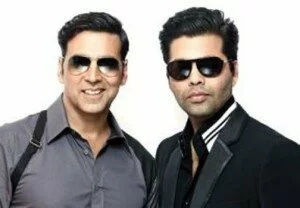 Further, Akshay Kumar said, "We're two very passionate producers with one great aim — to entertain. Both Karan and I want to make our fathers proud. Cheers to our new venture."
It is said that Karan Johar's mother Hiroo Johan and Akshay's wife Twinkle Khanna will co-produce the film.
Kjo said, "This association is not just professional, but also emotional. I've known Tina (as Twinkle is affectionately called by those close to her) since the age of four."
He adds, "I'm so excited that she and my mother are co-producers."
When asked about Punit Malhotra, KJo said, "Before we start our movie with Akshay, Punit will direct Imran Khan and Kareena Kapoor in a love story."